Popular Insulation Options
Insulating with EcoTouch PINK FIBERGLAS Batts & Rolls
The most affordable way to keep your home comfortable is to install insulation in your attic. We make this easy with our EcoTouch® PINK® FIBERGLAS™ Batts & Rolls . For maximum energy efficiency, we recommend about 18 inches of insulation for attic floors (to find out how much insulation you need, use our Insulation Calculators). If your joist cavities are completely filled, lay the new insulation in long runs perpendicular to the joists, and use leftover pieces for small spaces. Remember to keep insulation 3" away from recessed lighting fixtures and from any metal chimneys, gas water heater flues or other heat-producing devices.
Insulating with AtticCat Loosefill Insulation
Another method of insulating your attic is our loosefill insulation. Instead of laying batts or rolls, our AttiCat®Insulation Blowing Machine conditions the AttiCat® Expanding Blown-In PINK® Fiberglas™ Insulation by fluffing it along the length of the hose, adding millions of the tiny air pockets that give the material its insulating power. Because Fiberglas™insulation will not settle, it will maintain the same energy-saving level over time, keeping your home comfortable for years to come.
Help Keep Your Home Quiet & Comfortable with Floor Insulation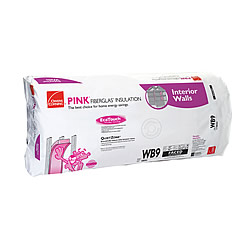 If your customer has a vented crawlspace with insulated ducts and no pipes, they likely have noticed their cold and noisy floors. The best solution for both the thermal and acoustical problems is to insulate the floor above the crawlspace.
The Owens Corning QuietZone® Acoustic System reduces the level of unwanted noise transmitted in the home while maintaining the desired level of comfort. Our QuietZone®Acoustic Floor Mat is acoustically engineered to isolate sound. Placed between the subfloor and a plywood or gypsum concrete overlayment, it forms an isolation layer for sound vibrations and impact noises such as foot traffic.
For complete acoustic performance, use with Owens Corning QuietZone® acoustic batts, which absorb sound vibrations within the wall cavity. They provide excellent in-place acoustical performance, and are as easy to install as thermal insulation.
Insulating Interior Basement Walls
A dry and comfortable basement means a dry and comfortable living space above. In a heated basement, insulate basement walls with existing (or added) 2×4 wall studs with Kraft paper-faced or unfaced exterior wall insulation. Prior to insulating, all foundation walls should be checked for water leakage and corrective action taken. Install an interior finish material, such as drywall, as soon as the insulation is in place. It is not necessary to insulate the ceiling in a heated basement, but it will help control noise between floors.
 1-800-RITE-ROOF has been installing Roofing, Siding, Gutters, Ventilation, Insulation, windows & Doors since 1996 in Waukesha, Milwaukee and all around southeastern Wisconsin. Call us today for a no obligation free inspection and written estimate at (262) 373-3800.Serving Milwaukee – Waukesha – Brookfield – New Berlin – Franklin – Racine – Shorewood – Greenfield – Grafton – Pewaukee – Oconomowoc – West Allis and the surrounding communities in southeastern Wisconsin
Testimonial
We had 1800riteroof replace our roof including adding insulation to our attic. The work was done April or May of 2014. They did an excellent job on their workmanship and cleaning up. I was very concerned of nails being left in my yard. I had 3 young kids to worry about. I searched very hard after they were done with the job. I only found ONE nail that had landed in one of my plants. None of my landscaping was damaged during the process either. I've been recommending this company ever since.
Alexis G – Milwaukee